As part of the Sweet Goodness Holiday Swap, I am posting the answers to 20 questions to help my swap pal and other swappers get to know me better.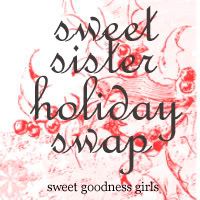 So here we go!

1. Favorite Color: This is always a tough one for me. I love pastels. I look good in and enjoy the intensity of bright red. I also like brown with an aforementioned pastel. I decorate my home in earth (autumnal) tones.

2. Chocolate Lover? Milk, Dark, White, or none of the above? I like it, especially with peanut butter. I like milk and dark, not a huge fan of white.

3. What is your favorite craft hobby? Hands down I love to sew. I am STILL learning new techniques all the time and enjoying every minute of it.

4. What is a craft/art hobby that you would like to start? I have already kind of started hand appliqué and embroidery. I would like to learn to knit but already have several skeins of yard and a kit to get started, whenever I'm ready.

5. What craft do you NOT have an interest in or just not great in ( so your partner doesn't send something you wouldn't use)? I'm terrible at any kind of painting unless it is a wall that I'm painting one color. I would like to be good at scrapbooking but am not patient enough nor do I have the time or discipline to get all the stuff out just to put it all away after I've got everything organized and done just a few pages, plus I have a ton of supplies that I already feel guilty about having!

6. Do you have any allergies? Just penicillin, most pain killers, muscle relaxers and carrots. Please don't send any of those, LOL!

7.What's your favorite part of Halloween? Decorating, candy eating, costumes, or something else? I love the costumes on the kids. I guess it is more of a fall thing, but I love pumpkin patches and all the kids' activities. I also love apple orchards. The geese honking as they fly south, the cool crisp air, and that smell. I don't know what it is, but autumn has a smell. I don't like the gore or scary costumes/décor. I HATE haunted houses. I think I'd rather be in a real haunted house than a staged one!

8. Do you decorate for Thanksgiving/Fall? I do decorate for fall, but not too crazy. I don't really have many purely Thanksgiving decorations, but would be happy to acquire some over time. I am just too thrifty to buy decorations for specific holidays (besides Christmas), I generally buy seasonal décor.

9. December Holidays--what holiday do you celebrate? What type of decorations do you like to put up in your house for that holiday? We celebrate Christmas. We get a fresh tree and decorate it. Our ornament stash is overflowing, but we can always rotate. I enjoy tasteful decorations that blend in nicely with the décor. Not so much the glittery or kiddie decorations. Though I do put some of that in the kids' rooms. We also do the Santa thing.

10. Do you have any children, if so what are their ages, boys/girls? I have a 3 year old girl, Ella and a 2 year old boy, Miles. They are both my biggest joys!

11. Do you have any pets, if so what kind? We have one black cat named Velvet.

12. Are you a reader? If so, what type of books do you like? I love to read. I like all types. Lately the fiction I've read is historical fiction. But the last and present book were/are non-fiction. I also like biographies, self help, ethnographies, and inspirational books. Here are my latest read books:

The Hiding Place – Corrie ten Boom
The Other Boleyn Girl – Phillipa Gregory
The Kitchen Boy: A Novel of the Last Tsar - Robert Alexander
Boundaries: When to Say Yes, When to Say No, To Take Control of Your Life - Henry Cloud and John Townsend
Alias Grace – Margaret Attwood
The Life You've Always Wanted – John Ortberg
Conspiracy of Fools: A True Story - Kurt Eichenwald

I've read a lot of Margaret Attwood, Maya Angelou and also enjoy Jane Austin (I was in the middle of Emma this Spring and never got back to it). My next book (for a book club) will be Suite Francaise by Irene Nemirovsky and on my own I'll be reading
Water for Elephants: A Novel by Sara Gruen.

For kids books, we're enjoying Mem Fox. Especially Tough Boris and Time for Bed. We also love Joseph Had a Little Overcoat by Simms Taback. A very good story to teach about the reuse part of "reduce, reuse, recycle." Oma's Quilt by Paulette Bourgeois and Stephane Jorisch is another we checked out of the library and loved.

And if you are in the mood for reading some dry scientific articles, please feel free to peruse a few I've authored or co-authored, LOL:
Go here: http://www.ncbi.nlm.nih.gov/sites/entrez at "for:" type in Whiteaker K (my maiden name which I always used for journal articles).

13. Are you celebrating a birthday or anniversary in October, November, or December? If so, what day and what is the occasion? My daughter's 4th birthday will be December 13. She loves to craft too! Imagine that. She would also like to help me cook and bake more.

14. Do you collect anything? If so what type of things do you collect? I guess we collect handmade pottery and unique dinnerware/serveware etc… It is a passion that both my husband and I share. We recently purchased new "everyday" dinnerware (the kids are not allowed to use it yet) most of which was custom made. We have also been collecting handmade serving bowls and recently bought a cute kitchen utensil holder on our last vacation. If I could personally collect something and money were no object I think it would be purses. I change them every season at least but would love to have several to switch back and forth. I just cannot bring myself to buy that many purses due to the stupid practical side of me. Well, I will start making some to grow a collection! I'm also thinking of collecting vintage tea towels.

15. What type of things do you like to cook? Are you an appetizer person, cookie maker, dessert freak or a take out type of person?? I enjoy cooking, I hate the clean up. I think my favorite is baking and I love baking pies. I also have an amazing scone recipe I got from a sweet couple who run a B&B in Cambridge, WI that we visited this Spring. My swap partner WILL be getting that recipe in December!

16. What is your favorite scent? Is there one that you can't stand? I like floral with a little citrus. For instance "Happy" by Clinique and they have a new one out with a little more of the citrusy scent. My favorite "dressing up" perfume is "J'Adore". For men I like Aqua di Gio. I recently purchased some lotion with a coconut scent and soap with a banana coconut scent and LOVE them! Reminds me of the Caribbean which I haven't been to recently enough! In candles I like the scents they call cotton or linen and those that smell like fresh baked good. Not real strong floral scents.

17. What's your favorite song? Wow, just one? I'll be more general, I love Ottorino Resphigi (classical composer), Sting (great at so many things and I think his best stuff is post Police), Ben Folds (his piano playing and composition make me feel so "at home" – too bad some of his lyrics are on the raunchy side – but at least they are honest and raw), Ella Fitzgerald (the most beautiful voice ever). I love great composers, great songwriters, great musicians and great singers. Ok no song was mentioned. Our first dance at our wedding was to "Exactly Like You."

18. What's the last movie you went to see at the movie theater? Charlottes Web at the free summer matinee. I cried! Amazing movie. Plus my kids behaved and enjoyed it too. I think it was particularly enjoyable because I read the book as a kid and it was nice to share with my kids.

19. What's your favorite Candy? For chocolate I like peanut butter cups and chocolate dipped strawberries (I guess that's not a candy but I had to mention it). I love fruity candy. Sweet tarts, Smarties, gummy bears, sour gummies, Nerds, Spree… I really try not to eat much candy though.

20. Tea or Coffee or other? Both, only decaf. I don't drink caffeine due to a minor heart condition. It went away when I cut out caffeine (a little chocolate isn't bad), so I'm not playing around. It's out for good! I think caffeine is terribly addictive anyway and just not very good for you.